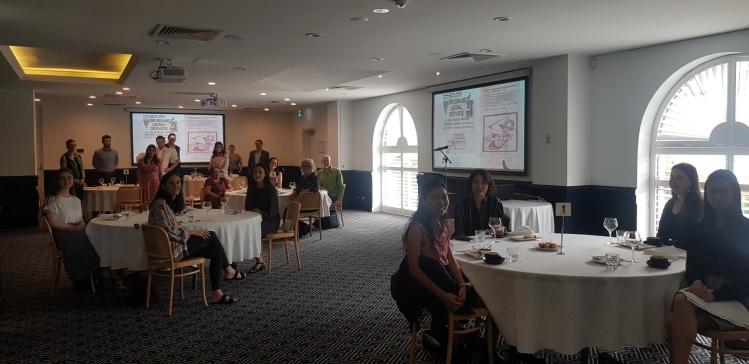 Today we proudly celebrated 40 years of RAILS providing legal assistance to refugees and immigrants in Queensland.
RAILS' history began on 3 September 1980, when volunteer social workers and lawyers started to provide free legal advice and information from the Brisbane Migrant Resource Centre in West End. Significant demand for more in-depth, case-based legal assistance led to the Service incorporating as the South Brisbane Community Legal Service (SBCLS) in 1984. In 1991, it further evolved to become the South Brisbane Immigration and Community Legal Service (SBICLS), to embrace the immigration work that was becoming the area of focus. With multiple relocations, a growing administrative and legal support team and increased funding, the Service has been known as Refugee and Immigration Legal Service (RAILS) since 2005 and has been located at 170 Boundary Street for the last 25 years. 
We believe that access to justice is a basic right for all people and strive to provide a holistic and sustainable legal service for vulnerable asylum seekers, refugees and migrants. RAILS endevaours to embody the values of an independent, diverse, client centered and ethical practice in order to provide our clients with opportunity to ensure their rights, regardless of disadvantage. 
RAILS impact on the live of the many people who have reached out to us in the past 40 years has been extraordinary. We are proud to have assisted thousands of people from over 100 countries who were looking to live in safety. We have learnt from their experiences and are humbled by their resilience. This would not have been achieved without the many individuals who have supported and worked at RAILS through the years: volunteers, staff and management committee members, students, community partners, and the pro bono support provided by law firms, barristers, solicitors and migration agents. The backbone of RAILS over the last 40 years has been the commitment, passion and tireless work of everyone who has been part of this journey and we thank them for their valued contribution.
Here is to 40 more years of RAILS fighting the good fight!